Mecomb
Kompleks Kejuruteraan Tractors,
1, Jalan Puchong,
Taman Perindustrian
Puchong Utama,
47100 Puchong,
Selangor, Malaysia.

+603-80688000

+603-80688102
helpdesk.mecomb@simedarby.com
KEPCO BOP-E Series Ethernet Control DC Bipolar Power Supplies
Central Services --- Power Supply ---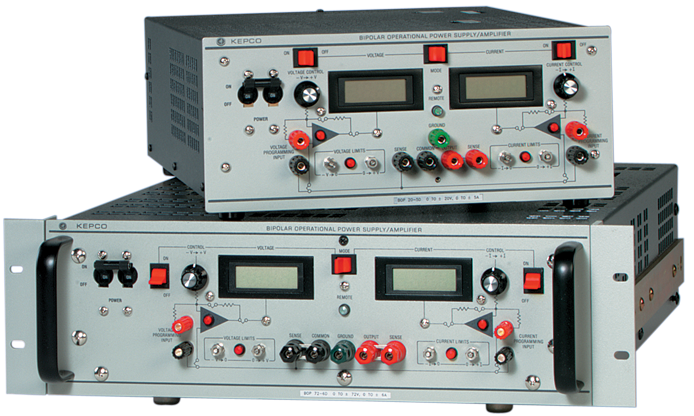 Kepco's new BOP-E Series of Ethernet-controlled 100W, 200W and 400W BOP linear bipolar power supplies deliver fast, ultra quiet and clean bipolar power. Kepco's BOP-E's models can be controlled from anywhere over Ethernet or LAN. Communication is either through a web page or by using SCPI commands via LabView and Telnet.
True 4-quadrant programmable voltage and current power supplies.
14 Standard Models, ± 0-5 Volts to ± 0-200 Volts, ± 0-5 Amps to ± 0-30 Amps.
Dual-range, 16-bit interface provides 15 bits of resolution for both full and quarter scale of output.
Inductive load and capacitive load optimized versions.
Discovery: MDNS (Bonjour - like the printer discovery) and VXI-11 (National Instruments Ni Max, Agilent Io controller)
IP address support: DCHP, AUTOIP and Static IP (using Web Page)
Connections: SOCKET @ port 5025 and TELNET @ port 5024
Connection throughput: 25 milliseconds
For further information please refer below link
https://www.kepcopower.com/bop-e.htm
Contact us for more information
Mecomb Malaysia Sdn Bhd
Kompleks Kejuruteraan Tractors
No.1, Jalan Puchong
Taman Perindustrian Puchong Utama
47100 Puchong, Selangor
Tel: +603 8068 8000
Fax: +603 8068 8102
Mobile: +6019 4717334 (Khairul)
Email: csdpj@simedarby.com